Los Angeles Post Examiner
As Straw Before the Wind: A powerful drama
BY RON IRWIN · AUGUST 17, 2016


From 1564 until 1946, a period of roughly 382 years, the Philippine people were ruled by colonial powers. First it was Spain followed by the United States of America until 1942 when Imperial Japan began its terrifying occupation. By 1945 General Douglas MacArthur had indeed returned and finally on July 4th 1946 the Republic of the Philippines was declared a free, independent and sovereign nation.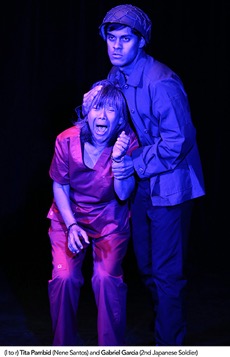 When an entire population lives under the rule of others for 382 years their survival depends heavily upon the qualities of resilience and perseverance, and those two qualities are uniquely evident in virtually all Filipinos and are presented dramatically by the character Nene Santos, as portrayed by Tita Pambid in the world premiere of the play
As Straw Before the Wind,
written by Felix Racelis and directed by Lesley Asistio.

The story centers on Nene Santos who, during the severely brutal World War Two era Japanese occupation, was savagely treated by a Japanese soldier. Many years later she is living in the United States and running a senior care facility out of her home.
Her two clients are Poncing Enrile a retired American Filipino Army Captain [portrayed by Muni Zano] and Mildred Novak [portrayed by Anita Borcia]. Poncing Enrile or simply "The Captain" as he is known is an incorrigible but lovable senior citizen while Mildred is known most for being a devoted chain smoker. Nene Santos also has her adult daughter Pilita Santos [portrayed by Sarnica Lim] living with her and helping out with the family business, but Pilita will soon get married and move out of the family home. In fact there will soon be many dramatic changes in the life of Nene Santos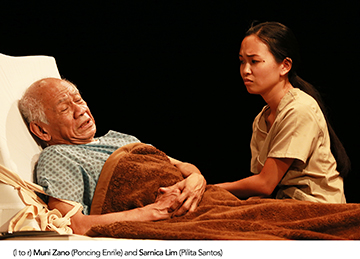 It is the story of story of survival in the face of unthinkable brutality and the evolution of one life to a place where happiness seems assured but isn't. It is very much a Filipino story written, directed and performed by Filipinos and Filipinas, but which also has a sense of universality that reaches a broad audience. I will say that in the first few scenes the dialogue often seemed a bit too rigid and the transitions between scenes were not particularly clear. But in the end it did come together and by the end of the show a truly magnificent display of powerful emotion is projected by Tita Pambid, from the stage to the hearts and minds of the audience, leaving everyone in total awe.

All photos by Michael Helms photography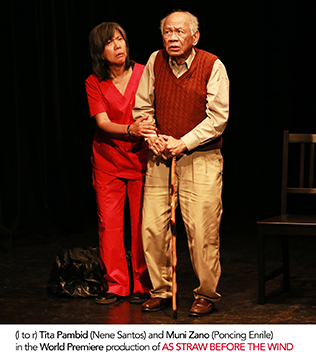 "As Straw Before the Wind"
A Universal Theme With a Filipino Perspective
LINITA MASTERS AUGUST 24, 2016 • By Linita Masters

With so much talk of diversity, or lack of, in Hollywood, I was pleased to be invited to the world premiere of the play "As Straw Before the Wind," written by Filipino-American playwright Felix Racelis and directed by Lesley Asistio, in which the majority of the actors are of Filipino descent. I know that for myself, as I'm sure is the same for many Americans, I have very little knowledge of the history or struggles of Filipino and Filipino-Americans. In this story, Racelis attempts to give us a peek into the Filipino experience.
I walked into the Ruby Theatre in Hollywood, on a Sunday afternoon, and was greeted by a lovely and warm Racelis. While in my seat, I was treated to traditional Filipino music playing over the speakers, and a slide show montage projected on stage (by Guillermo Aviles-Rodriguez) which served to set the tone for the play.
The story revolves around Filipina immigrant, Nene Santos, who, as a child, was assaulted and raped, as well bearing witness to her parents' gruesome execution during the Japanese invasion of the Philippines during WWII. She escapes and immigrates to the U.S. with her uncle to start a new life. They end up in San Gabriel, California. It's now 1993, and sixty-five year old RN, Nene Santos (Tita Pambid), runs a convalescent facility with the help of her daughter Pilita (Sarnica Lim). The small care-facility is home to two residents: A wheelchair bound, retired, Filipino-American Army Captain, named Poncing Enrile (Muni Zano), whose joy in life is to get his chance to pinch the behind of Pilita. The other resident is the white, widowed Mrs. Mildred Novak (Anita Borcia) who suffers from Alzheimer's and spends her days reminiscing with her dead husband Charlie, and to the annoyance of Nene, likes to sneak a smoke whenever she gets the chance.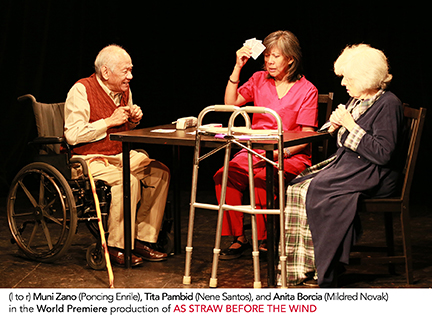 The facility has hit some hard times and Nene is convinced that getting a loan to expand the facility will allow her to take on more patients and provide them all with shiny new accommodations. Unfortunately, she gets turned down for the business loan and is forced to take on a new patient that must room with Poncing, who protests to the roommate.

Nene and Pilita's relationship is strained when Pilita announces that she is engaged and will be leaving her job at the facility to become a housewife. This doesn't sit well with Nene, who becomes enraged as she feels abandoned and betrayed. Lim plays Pilita with a mild-mannered believable reserve opposite Pambid's desperate reactionary and sympathetic portrayal of Nene which is most effective during the flashback scenes. Nene's is played out as flawed and somewhat abusive to her daughter, and to her patients, grabbing the arm of one and retraining the other.
Muni Zano plays "Captain" Poncing Enrile who trusts only Pilita to touch him or care for him and takes every opportunity to get handsy with her and throw suggestive comments in her direction. Zano provides some humor and memorably funny moments to the play. While Pilita is wincing from the smell during his bedpan change, he refers to his deposit as "his aromatherapy."
Anita Borcia plays the role of Mildred, provides some humorous moments as well. But Borcia also supplies some of the more heartwarming and poignant moments, when Mildred recalls moments she spent with her now departed husband and how much she wants to see him again.
The character of Poncing's daughter Maria Enrile (Rochelle Lozano), was small and incidental. Doan Nguyen and Gabriel Garcia were utilitarian in their multitude of characters from Loan Officer to Japanese Military Officer.
There are several instances that trigger traumatic war flashbacks for Nene, which are accompanied by well timed lighting changes (lighting design by Jim Niedzialkowski) that make the scenes much more impactful. The set is minimal, which added to the intimacy, and gave you the sense that you were peeking through the window into someone's real life.
My one technical issue is with the slow pace of the set transitions, forcing the stage to go black ,which at one point seemed to go on longer than the scene before it, while watching cast member move set pieces into place.
There was also a confusing moment during the final scene where you realize , although Lim gives a wonderfully tender performance as Pilita, the 30-something year old is miscast as a character that should have been closer to 55 for the ending to be plausible.
Overall "As Straw Before the Wind", successfully covers several themes that include the helplessness of being elderly and sick, the inevitability of caring for our aging family members, conflicts between family and the difficult struggle dealing with post-traumatic stress disorder. Racelis manages to balance the themes and Asistio's slower pace gives you a chance to think about the scene and characters as they flow from one scene to the next. Most importantly it covered the themes from a Filipino-American perspective, giving a voice to a segment of our population that has an important story to be told, which Racelis and Asistio do wonderfully.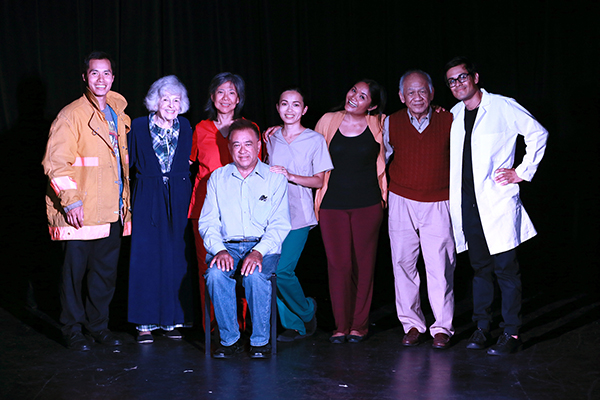 AS STRAW BEFORE THE WIND: Cast & Playwright
(l to r, standing) Doan Nguyen (Loan Officer, swing 1) • Anita Borcia (Mildred Novak) • Tita Pambid (Nene Santos) • Sarnica Lim (Pilita Santos)
• Rochelle Lozano (Maria Enrile) • Muni Zano (Poncing Enrile) • Gabriel Garcia (Mr. Martinez, Jr. swing 2)
(seated) Felix Racelis, Playwright & Executive Producer
All photos by Michael Helms photography


L.A. theater openings, Aug. 7-14: 'As Straw Before the Wind'

August 4, 2016 • Ruby Theatre Will Present World Premiere of As Straw Before The Wind The California production marks achievement and representation in theatre for the Filipino community. Playbill, August 11, 2016 • The Filipino American experience explored in 'As Straw Before the Wind' The Daily News/Arts & Entertainment, August 11, 2016 • Pasadena Resident Sarnica Lim Stars in New World Premiere Play Pasadena Independent, August 9, 2016 • MUNI ZANO // artist profile story in @THIS STAGE magazine, Los Angeles, Theatre+, A Program of LA Stage Alliance July 25, 2016 • As Straw Before the Wind Sets a Hollywood World Premiere Felix Racelis' new play is set in the aftermath of World War II. THEATERMANIA Theater News by Hayley Levitt • Los Angeles • July 11, 2016 • Filipinos' Straw Before the Wind By Christian L. Guzman RLNews August 9, 2016 • As Straw Productions Brings AS STRAW BEFORE THE WIND to the Ruby Theatre BROADWAY WORLD — July 10, 2016 • Fil-Am stars in world premiere of 'As Straw Before The Wind' US Asian Post • Listen to LA Talk Radio's The Mother Love Show with the legendary Mother Love IN STUDIO with Felix Racelis, Playwright/Executive Producer, & Lesley Asistio, Director, As Straw Before the Wind. The Mother Love Show, July 14, 2016 (Interview starts apx 3 minutes in) • . . .a new play that offers a window into the life experience of a Filipina nurse who survives the trauma of World War II only to discover that her war is not yet over. Written by Felix Racelis, under the direction of Lesley Asistio. THIS STAGE MAGAZINE Los Angeles Theater, July 14, 2016 • Fil-Am stars in world premiere of 'As Straw Before The Wind' Balita Weekend, July 16, 2016