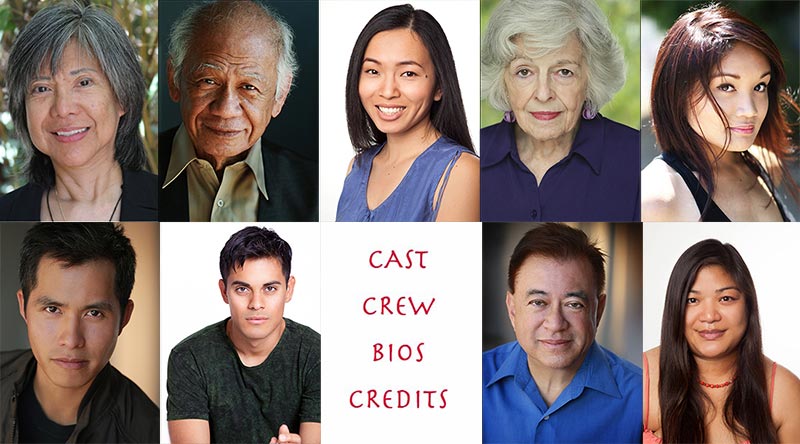 Tita Pambid (Nene Santos) • Muni Zano (Poncing Enrile) • Sarnica Lim (Pilita Santos) • Anita Borcia (Mildred Novak) • Rochelle Lozano (Maria Enrile)
Doan Nguyen (Loan Officer, swing 1) • Gabriel Garcia (Mr. Martinez, Jr. swing 2)
Felix Racelis, Playwright & Executive Producer • Lesley Asistio, Director & Co-Produce
CAST BIOS
Tita Pambid (Nene Santos), of Historic Filipinotown, has more than 25 years of theater, television and film experience. In addition to her extensive experience as an actress, Pambid holds a Ph.D. in Philippine Studies form the University of the Philippines, and currently serves as Lecturer in Filipino Language and South and Southeast Languages and Cultures at UCLA.

Pambid started her acting career in the Philippines when she trained under the Philippine Educational Theater Association-Central Institute of Theater Arts in Southeast Asia (PETA-CITASA) in 1972. From 1979-1989, she did various roles for the yearly season and national tours ofBulwagang Gantimpala (Hall of Winners), then the theater arm of the Cultural Center of the Philippines (CCP). She performed in several productions here and abroad, including I Want a Wife (1990) First Sino-American International Women's Conference in Beijing, People's Republic of China; Bakwet (Evacuation) (1991), Los Angeles Children's Museum, City Hall; and Ramona Reyes of Forbes Park (1991) Pacific Asia Museum, Pasadena.

In 1984, Pambid was a central actor in two popular television shows in the Phillipines: Roberta, a daily soap opera, and To Each His Own, a weekly TV sitcom. In 1991, to further hone her acting skills, she took a year-long full-time program in theater arts at the Lee Strasberg Theatre & Film Institute in West Hollywood. Her work in film includes Ianfu, a 15-minute feature film on Filipino comfort women during World War II, where she was associate director, researcher, co-writer, and actor. The film was shown at the Melbourne Film Festival in 1992. It won first prize in the 1993 Gawad CCP Para sa Alternatibong Pelikula at Video (CCP Award for Alternative Film) and a Special Jury Award for Short Narrative at the 37th San Francisco International Film Festival (1994).

Muni Zano (Poncing Enrile, Ino), of Los Angeles, is a SAG/AFTRA member and veteran actor of stage, film and TV. On stage he has performed inSavages at the Mark Taper Forum and in its reprise at Seattle Rep, No Smile for Strangers and Pinoys in Space at East West Players. Other plays include:Manilamen at Loyola, Portrait of the Artist as Filipino at the Zephyr Theatre, Barefoot in the Park, Can We Talk About it Now? at Harman Avenue Theatre,Chomolongma (Mt. Everest) at the Zigurat Theatre and The Romance of Magno Rubio at the (Inside) Ford Theatre, to mention a few.

Zano wrote and performed the one-man play Ninoy, The Uncommon Tao on tour, produced and directed by Dom Magwili, under the auspices of the LA Cultural Affairs Department. Film credits include: Universal's McArthur" and Medallion Films/New World Pictures' "Fire in the Night" and "Price of Glory." He has performed in several films made for TV, including: Stanley Kramer's Judgement: Trial of Gen. Yamashita, Once an Eagle, Infidelity, and Hallmark's The Lost Valentine. He played several recurring roles in episodes of TV series such as Baa Black Sheep, The Masters, Unsolved Mysteries, and St. Elsewhere. He did voice-overs for the film No Way Out. As a member of Manila Actors' Studio and Dulce Capadocia's Silayan Dance Company, he performed intermittently in various productions of musical plays such as America is in the Heart and dramatic dance concerts like Mai Lost and Song for Tatay of the respective companies, presented in different venues from California State University, Los Angeles, University of California San Diego, Loyola Marymount University to Temple University in Philadelphia.

Sarnica Lim (Pilita Santos), of Pasadena, is a Japanese-Filipino actress and artist whose theatre credits include: The Sex Show (Highways Performance Space), Young Explorers League (Christ Church of the Valley), Shinsai: Plays for Japan (Japanese-American National Museum), Tohubohu! Total Improv (Rachel Rosenthal Theatre Company), Site Specific Work for Opera Del Espacio and numerous appearances at California State University Los Angeles, including: Couplings Dance Concert, Home Schooled, Moving Dance Images, Gun In A Metermaid's Hand, Girl 7 and Machinal. Independent film credits include: X-8, Misconception, Goddamn It, I Love You, Do It Yourself and The Calling. Lim holds a B.A. degree in Theatre Arts and Dance from California State University, Los Angeles.

Anita Borcia (Mildred Novak), of Studio City, began her theatrical career as a child in Chicago's Yiddish Theatre, and grew up to perform a wide range of leading and character roles on Chicago stages. Since moving to California, the film capital of the world, Borcia has been seen on screens of various sizes. Highlights include features, The Scent of Harvest and Monday Morning; short films, including leading roles in A Modest Stillness, Hit Squad, Sugar, Butterscotch, and The Gran' Scam of Things. The most recent, When A Flame Stands Still, is screening in film festivals globally. Borcia has been seen on television on Scary Tales (3-D TV series) and All Worked Up (Tru-TV); the Internet in The Immoral Dr. Dicker, Funny or Die, and Thee Old School; and in music videos, PSA's, and commercials. Onstage, she has appeared in The Book of Esther, Avery (Animals), and numerous staged readings. A member of First Stage, Borcia has previously appeared in Felix Racelis' Forever Fog.

Rochelle Lozano (Maria Enrile), of North Hollywood, is working with director Lesley Asistio for the fourth time on this production. Her theatre credits include: The VirginMotherWhore Project, Vagina Monologues and Scuba Lessons. She appeared as a Protester in the film Milk. Lozano is a 2009 graduate from the University of San Francisco with a Media Studies major and Performing Arts minor. She moved to Los Angeles in 2010 to pursue her dreams in the media and the pageant world. She has performed in various theatres in Hollywood, and in April 2015, she competed in her second statewide pageant and was crowned the winner as Miss California Icon. She hopes to continue promoting her platform of juvenile rheumatoid arthritis awareness, perseverance, and positivity through pageantry.

Doan Nguyen (Loan Officer, Swing 1, multiple characters), of Encino, was born as an only child and raised in Vietnam until he was 13. His parents then moved to the U.S. He studied at Cleveland State University. He then moved to New York and studied at Stellar Adler Theater for several years. Nguyen moved to Los Angeles in 2007. He quickly joined several acting schools like The Playhouse West Theater. His film and television credits include: Deadliest Warriors, TwiHarder, Wax Off and Travis McFairland Club. Theatre credits include appearances in Fool on the Roof, Ninjacal, Soldiers Don't Cry, Tea House of the August Moon and South Pacific. Recently, Nguyen was cast as the lead in a short film call Names on The Wall about a friendship between two soldiers on opposite sides during The Vietnam War. Doan Nguyen's passion for acting was inspired by his Uncle Dung Tien Nguyen who won Best Actor Vietnamese Audience Choice Award in 1996 for leading roles he played in several Vietnamese TV drama series.

Gabriel Garcia (Mr. Martinez, Jr., Swing 2, multiple characters), of Koreatown, is a California-native actor. His theatre credits include appearances in One Kind Thing, Valentine's Day, Bugs, Flor, Goodnight Monster, Three Amigos Present, Art, the Laramie Project, News Kid, The Talking Stick and Hotel Paradiso. His recent credits include: Life's a Bitch And So Am I at the Hollywood Fringe Festival; The Sex Show at Highways Performance Space; Young Orlando in Hopscotch, The Industry's groundbreaking first mobile opera staged in the streetscape of Los Angeles and Cornerstone Theatre's tour of California as Trinculo in The Tempest. Garcia obtained his B.A. degree in Theatre from California State Bakersfield in 2012. His passions include film, puppets and children's theatre.
Felix Racelis
(
Playwright/Executive Producer) of Silver Lake, is a member of Skylight Theatre Company's PlayLab where he wrote
Fault Lines
last year.
AS STRAW BEFORE THE WIND
was developed in the David Henry Hwang Writers' Institute of East West Players and at First Stage LA. Also at First Stage he penned a dark comedy,
Suicide Interruptus: A Wild Ride from Paramus to Dallas
,
Manimal Crackers
, and
Hollywood Walk of Shame
.
Motherload
– his evening of six short plays about mothers directed byKaz Matamura, entertained audiences in May 2016 at the Missing Piece Theatre.


Nearly 30 of his one-act and ten-minute plays have been produced in Los Angeles, New York and San Francisco. His
Uncommon Threads
won First Place in Fire Rose Productions' Ten-Minute Play Festival,
The Grand Can
was the 2014 First Stage Playwrights Express Festival Winner, and
Forever Fog
was a finalist in Theatre Forty's One-Act Play Contest.

Racelis is an M.F.A. Film/TV graduate of UCLA and a Nicholl Screenwriting Competition Quarter-Finalist. JAC Publishing & Promotions has published
Forever Fog
,
A Quintessential Evening: Five Short Plays by Felix Racelis
and two of his monologues. Racelis is also a Board Member of the Skylight Theatre Company and of First Stage, and is a member of the Alliance of Los Angeles Playwrights.
Lesley Asistio
(Director), of El Sereno, has been creating and producing theatre for over a decade. Her directing credits include
Lunch with "Friends," The Writers
,
Scar, We Work Out, The Length of this Play has the Half Life of Uranium
,
Day 41, The VirginMotherWhore Project, The Va-Jay-Jay Chronicles, The VMW 2009: Image, GiRL7,
and
Regrets.
Asistio is also an actress, playwright, and solo performer. She has performed her one-woman-show
Be: Jesus + Drugs = Beauty
at the Hollywood Fringe Festival and at the ZooTown Fringe Festival in Missoula, Montana. Recently, she was awarded a 2016 Puffin Foundation Grant to develop her latest solo show
Nurse Asistio: Living the Filipina American Dream.
Asistio serves as one of the Vice Chairs of the Alliance of Los Angeles Playwrights.

T
he production team includes:
Felix Racelis,
Executive Producer and Playwright;
Lesley Asistio,
Director and Co-Producer;
Jim Niedzialkowski,
Technical Director and Stage Manager;
Alejandro Chavez
, Assistant Stage Manager;
Ken Short
, Artistic Advisor,
Michael Helms Photography,
Pre-Production and Production Photographer;
Janis Blackschleger,
Graphic Design Artist and Webmaster;
Steve Moyer,
Steve Moyer Public Relations and
Diana Martinez,
L.A. Media Grou
p
,
Press Representatives.